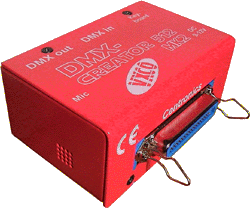 DMX Centronics Interface connects to any standard printer port.
No needed a spesial driver installation. Connect the box to the printer port and run the main program.
Attention!!! New release. 1 Dec 2000.
This version of controller can work without computer. To use it in autonomic mode is enough to prepare lighting show on computer and program it into internal flash-ROM.

New autonomic mode supports up to 40 sequences and 2000 scenes.

The control in autonomic mode provides by using of the standard PC keyboard, connected to the interface via PS/2 plug.

Built-in microphone allows to synchronize lighting show with music.